How to Save Time and Money When Moving
Published on Thursday, 10 December 2009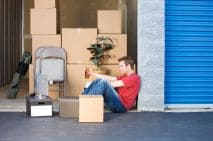 Who doesn't want to save time and money when they move? Moving can cost you a lot after all, especially if you're moving far. So here are a few cost and time-saving tips that you can follow so that your move will save you time and money.
- Hire a professional mover- professional movers save not only your time and money but also your energy. You don't have to worry about packing glass, paying for the gas of your truck, lifting heavy objects, etc. They will do the work for you for a reasonable price.
- Garage sale- don't underestimate the amount of money that you can gain from a garage sale-it might even pay for all your moving expenses. Plus it will get rid of the unnecessary items that you don't really want to see in your new house.
- Get a moving insurance- get your move insured so that you don't have to pay for a vase or chair anymore, if ever it breaks in the course of the move. It will also avoid you from spending time waiting for broken furniture to be repaired.
- Recycle packing supplies- look for boxes and plastic bags that can be used in the packing. In this way, you don't have to buy new ones or to ask the professional removal company to provide for you-for that will only mean more money to shed.
Move smart. Do these tips and you'll surely save time and money.
MORE NEWS AND TIPS