4 Intelligent Methods to an Easy Moving Out
Published on Thursday, 08 April 2010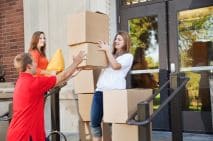 There are people who have been experimenting a lot in order to have an easy way to move out. Gladly, these people were able to come up with 5 easy steps and methods to make moving out a little less stressing and a lot easier. These are as follows:
Create a code in marking and labeling your moving out boxes. Coding technique is a proven effective method in easily identifying things. You can use alphabets or numeric or even alpha-numeric to make identification a lot easier. To save more money in buying your moving out supplies, go to the department or grocery stores to buy your moving out boxes. Usually, these stores offer half the price boxes. Eliminate things that you no longer need. There are house things that you have stored and kept for the longest time. This is the right time that you get rid of them. If you cannot purge them might as well have them donated somewhere else where they can be more useful and productive.Do not rush in packing and unpacking things. While it is necessary that you should pack your things with immediacy, unpacking these boxes may not be the case. You have so much time to do it so no rush!
Follow these simple tips if you want your moving out worry free, easy, and stress-free.
MORE NEWS AND TIPS