4 Ways to Ensure a Problem-Free Long Distance Moving
Published on Saturday, 26 September 2009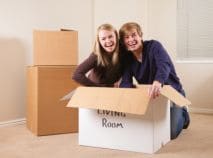 Moving within the same city can already be depressing. What more if you will move to another state or province? For sure, that will surely be a lot more depressing. To many, they instead hire services of a moving company to escape this depressing situation. But for the unfortunate few, doing this can be much more depressing when the movers have done some irreparable damages to their belongings during the move.
However, this does not mean you should not trust any moving company. Just be careful when choosing the moving company by following these tips:
1. Get moving quotes from three or more companies. Doing this will help you in assessing different prices and different deals. It will also be easier for you to choose when you can objectively compare three or more of your chosen companies.
2. Do a background check for the three or more chosen companies. You have to know if the company is legitimate or not through checking their business name in Better Business Bureau or other similar groups.
3. Hire only a company that can give you a good insurance coverage. At least, you won't have to worry about the monetary value of the things you entrust to the moving company.
4. Check the different equipment, moving vehicles, and packing materials that the companies will use. These things are very important to ensure a problem-free moving.
It may be difficult to choose from hundreds of potential moving companies. But by doing these four ways, you can at least choose the one that will make your long distance moving totally problem-free.
MORE NEWS AND TIPS