A Guide to Effective Self-packing Things
Published on Friday, 27 November 2009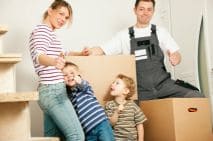 There are times that you want things done on your own not because you are saving money but because you feel more secure and confident about how things were done when you did it yourself. However, when moving out, even when you think that you will find satisfaction in packing things your self, it would not just as easy.
And to help people who frequently and happily perform the "do-it-yourself" moving out, below is the effective guide that they can follow:
Create an inventory of all the things that you have in the house. Creating an inventory of the household things allow you to take a pick on those things that you can live without (meaning, not too important to bring in with you during the move out) and those that certainly play important role. Create a checklist of the things that need to be packed The checklist is the best guide that you can use in order to track and monitor which is yet to be packed and which is already labeled and ready for loading. The checklist allows you to not forget things -especially the more important ones. Create a timeline and follow it rigidly. When doing a move out it is important that a timeline is set. Follow this timeline in order to achieve the schedules that you have.
Getting things done in an organized manner allows you to have a smoothly running activity. And you can start getting organized by following these simple tips.
MORE NEWS AND TIPS