Are You Ready to Move Out? Take These Simple Tips and Tricks
Published on Wednesday, 02 September 2009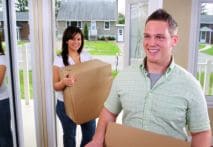 Moving out to a new place should be fun and exciting. You can do this when you know how to deal with a more usual stressful and tiring moving out activity. If you are ready to move out, then it is best that you carry with you these simple tips and tricks to a successful move out:
There is no better way to beat the stress of moving out than being organized. Being organized means having a checklist of what needs to be done, what needs to transported, and who needs to be called. You can start by enlisting all the stuff that you need to carry with you by creating an inventory list. To beat the stress of moving out, make sure that you plan ahead of time. More often, time is the lethal enemy in moving out. Therefore, if you have packed and organized things a little early than the expected, it is pretty sure that problems attached with moving out are easily beaten out. Usually, 6 months of preparation is the most ideal duration to move out. So, expect that you give yourself that amount of time. When you start packing your things, always begin your packing by getting all those things are placed where they are usually congested - the attic, the storage area, the basement. This is where you can start unclogging your house.
Moving out to a new house should not be as cumbersome as you think more so when you have these tips and tricks at hand.
MORE NEWS AND TIPS