Different Types Moving Materials and Equipment
Published on Friday, 19 March 2010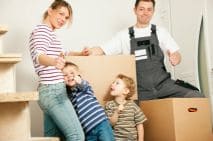 Different types of equipment are required to make any moving successful. Moving companies use these essential moving equipments and materials to speed up the moving job at the same time ensuring safety for your belongings. It will please you to know that most of these moving materials and equipment can be obtained from any local supply store.
Packing Supplies
A normal moving kit usually contains boxes of various sizes and specialties. It also has different kinds of wraps, markers and sealing tapes.
Boxes are the most commonly used packing supplies. Movers usually use standard sized boxes to carry out their job. They also use special boxes for specific purposes such as wardrobe boxes and dish packs. Wardrobe boxes have bars used for hanging clothes while dish packs have compartments ideal for dishes and crystal ware.
Padding or cushioning is also one of the most important supplies in packing. Items are usually wrapped in special packing papers before putting them in the box. Another kind of wrapper called bubble wrap is also used for delicate items to avoid breakage and water damage. After wrapping the items, movers use packing tapes to secure the boxes.
Moving Equipment
When the boxes are ready to load on the truck, movers pull out their trolleys and dollies. Trolleys and dollies are wheeled carts used to move large, heavy items from one place to another. To prevent marks on the flooring, movers use ramps whenever they wheel their trolleys. Some movers also use door jam protectors and banister bumpers to protect doors and banisters from scratches while moving large furniture.
The most important equipment for moving is transportation. Generally, moving companies have their own fleet of trucks. These trucks are also available for rent. So whether you hire movers or decide to work on your own, make sure you have all the necessary equipment for a smooth and easy move.
MORE NEWS AND TIPS