Enjoying the Benefits of Organization When Moving
Published on Friday, 23 October 2009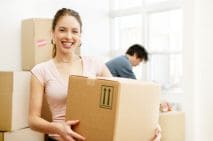 There's only one strategy that makes moving out easier. Of course, strategies are, by nature, hard to implement no matter how simple they are. Though, in the case of moving out, you really need to keep things simple. This strategy is called organization.
That's it, and by now you'd probably swear that you only know this for a fact. But as stated earlier, strategies are really hard to implement without the knowledge of what to expect. In the case of 'what to expect', you must expect to find items that you'd no longer want to keep. You'd even find yourself in the situation of finding items that you've already forgotten or have thrown away in the past.
Good organization in moving out is done in this way.
You must make a list of the items that you'd like to bring and discard. Carefully separate these from those that you no longer want. You may even want to make a third set for items that you can't decide as to whether you'd want them on your new home or not.
From these lists, you now have a detailed set of items and on their location. You can now make arrangements on the matter of putting these on boxes. These lists will give you a general idea on how many boxes you'd need. Of course, you should always bear in mind that you should make it a point to get more boxes than your estimate as the items you'd like to keep tend to grow in numbers or occupy more spaces in the boxes.
From this, you can now have the boxes picked up by the local movers or by a friend. With careful organization, you can now point on the right boxes and such. Enjoy your new home!
MORE NEWS AND TIPS