Five Reasons to Choose a Modular Storage When You Move
Published on Monday, 16 November 2009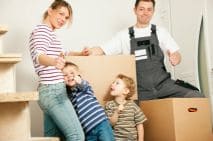 So you're moving and is about to start packing all your things up. Better consider getting a modular storage for this. Besides, there are so many benefits when you do. Here, get to know the top five reasons why most households choose to rent a modular storage when they move:
1. A modular storage is great if you need to empty your house while you are packing your things. Several days or weeks before the moving date, the removal company can already send the modular storage to your house. And then, you can start to pack things and put these things in the modular storage, thus, emptying your house as soon as you need to.
2. Less stressful because you don't get so stressed seeing those piles of boxes in every room. Instead, you can already have those boxes put in the modular storage, ready for delivery.
3. Your things are safe in the modular storage because you can always lock it.
4. You save yourself from worrying if you let the professional movers handle your things for packing or loading up.
5. With a modular storage, you can adjust to your packing and loading schedule well. The professional mover will only go to your house if you're ready to move the things to the new place.
Do you think you need to enjoy the benefits of having a modular storage? If yes, you better contact your local removal company now and ask for the rate and terms/conditions of using it.
MORE NEWS AND TIPS