Handy Tricks and Techniques on Packing
Published on Tuesday, 21 September 2010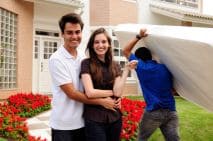 If you want to accomplish packing as fast and as efficiently as you can, you need to be organized. Just get rid of the clutter first and throw away trash. Once the clutter is out of the way, you can now concentrate on the more important items. For instance, if you still have clothes you haven't used in 2 years or so it's time to discard them now.
If you are moving interstate or abroad, you should even dispose the items that you can easily be replace as well even if you still need them. For instance, if you have a home office you might want to buy new office furniture instead of having to ship them abroad. It could even be more expensive to do so than to replace them instead.
By disposing as many items, you minimize the items you need to pack. So packing can be accomplished faster. With fewer items to pack, moving would surely be less stressful and be more convenient as well. Of course, if you have plenty of time to do your packing things would be least stressful. You won't even have to hurry.
Make sure you are using appropriate boxes though to make sure that the boxes won't get torn while your things are in transit. Label the boxes too so you will know which room each needs to go. An inventory would also come handy when you need to find some things that are not yet unpacked. By following these tips, not only will packing be easier but unpacking as well.
MORE NEWS AND TIPS