Hot Tips to Make the Moving out Effectively Handled
Published on Tuesday, 08 September 2009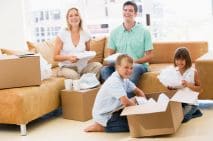 In order to have a smooth and worry free moving out process, you should equip yourself with a few handy and hot tips and techniques in moving out to a new place. These tips are essentially summed up as follow:
Segregate effectively the things that you need to bring and the things that need priority to transport. By effectively segregating the household stuff that need to be moved out, you eliminate excessive baggage to bring. Make sure that you have all the materials needed in packing. Packing boxes of varying sizes, masking tape, labeling markers, and post-its papers are usually the things that you need. Have all of these bought and prepared. In packing fragile stuff, it is best that you have them vertically positioned. The vertical position gives these fragile materials protection from getting damaged or worst broken. Do not forget to put cushion in between them. Household things that are light in weight should be placed on bigger boxes while those that are heavy should be placed on small boxes. This is the trick that is more often overlooked.
By following these handy tips, you can be so sure that moving out to a new place shall not be as stressing and problematic.
MORE NEWS AND TIPS