House Removal Tips for Beginners
Published on Friday, 02 October 2009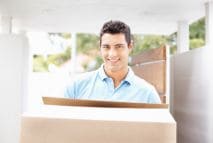 Removal companies can really help people who are stressed out in planning their moving out activity. However, when you are forced to do the house removal yourself and there is no one to turn to, the best thing that you can do is to trust the experts' tips and follow them religiously. Below are just of these handy tips for beginners in house removal:
If you have house stuffs that have polished faces like china cabinets, make sure that they are well protected when being transported. You can use your beddings or any blanket to protect the surface against getting scratched. If you are packing soft stuffs, it is best that they are placed inside huge bags or boxed and put little cushioning on the edges to give better protection. Make sure that you have all the fragile things inside a single box and protect them with a cushioning material. You can wrap these fragile items with old newspapers or use your pillows to protect them from getting damaged while being transported. Lastly, do not forget to label all your boxes to avoid losing or misplacing anything while transporting them.
These house removal tips can greatly help any beginner or even an expert in moving out.
MORE NEWS AND TIPS