How are Dogs Be Trained for the New House
Published on Thursday, 07 April 2011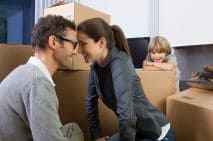 For most people, moving into the new house can cause anxiety and stress that may be felt for a longer duration. And this could be worse felt by the pets in the house. What is even worse about this is that it could be more difficult to train these pets in the new house. In order to make things easier for the pet owner and the pets, the following training tips are being suggested:
a. Apply the crate training. The crate training allows the dog to adjust easily to the new environment. The crate training is one of the fundamental means and ways of dog trainers should they desire to achieve a dog that follows the master. After a while, when the dog becomes more familiar with the new environment, then you can easily adjust the training by allowing it to go out of the cage or the enclosure.
b. Plan the crate training schedule. It is not advisable that all thru out the crate training, the dog is "enclosed" inside the cage. You need to make sure that there is a schedule being followed for the crate training and that there is also a time that it is being freed from the cage in order to exercise its muscles.
These are some of the more useful and practical tips on how you can successfully train the dogs in the new house.
MORE NEWS AND TIPS