How dogs should be Moved Out to a New House
Published on Wednesday, 09 September 2009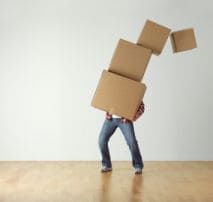 When it is time to move out to a new place, even pets like dogs feel the stress and pressure that you feel. However, there are simple ways that you can follow to ensure that your dogs do not get stressed out during the move out. Below are some of these:
Ahead of time, check the new house if it has a spare place where you can house your pets. If the new house does not have the space, make sure that you find a better location where the dog can stay. Usually, dogs love to stay on the side near the main door where you go in and out. If you are traveling the pet on a car, refrain from feeding the dog at least four hours before the travel. Dogs like humans get carsick too. So, to avoid any sickness due to traveling, take the precautionary measures. When you are traveling by car, do not let your dogs snoop out on the car windows. Their eyes are sensitive to dust and wind. Over exposure with too much wind and dust can cause redness in their eyes.
So, remember that when you are moving out, you do not only think about yourself and the members of the family. Pets like dogs need time to adjust and get prepared with the move out.
MORE NEWS AND TIPS