How the Right Company Can Help Make Your Move More Convenient
Published on Saturday, 10 April 2010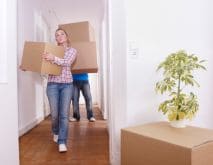 Don't you just want to be told when you should move to your new home and have no worries with regards to packing and making arrangements of everything? Well, while no one can do the whole moving process better than you, hiring a removals company is pretty close.
If you have sufficient budget, you could let them do almost everything pertaining to the transfer of your things. The removals company will efficiently pack your belongings including your furniture and appliances. They would have the vehicle and the manpower to move your things as well. In fact, they do these things everyday so they can be very efficient in their work. You just need to find the company that has high standards on their service. To avoid getting scammed you need to look for years of experience and good reputation. It would be advisable to hire a company recommended by family and friends.
If you want to make moving even easier, you can actually get complete relocation services. Aside from making packing and transportation easier, the company could even assist you in finding your next home. They could book your flights or rent cars for you. And they could even cater to your special needs and requirements as well. In fact, you could find your new home organized and complete. Your refrigerator is full of your favorite food. And even the rooms of your kids are setup they way you requested.
MORE NEWS AND TIPS