How to Choose the Perfect Removal Company in UK
Published on Monday, 29 November 2010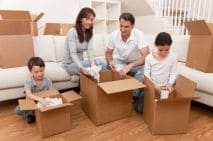 Moving to a new house is very challenging - physically, mentally, and financially. It is very unfortunate that at some instance, people who move out are trapped in a situation where, as if they do not have ways to get out of it -like overly spending for the removal or getting entangled with bogus removal company and all sorts.
These may be the realities of relocating to a new place but there are ways that you can find and use in order to have a little less burdensome and challenging relocation. If you are moving in UK, these tips in choosing the best perfect removal company can help:
a. Check the removal company's service offerings. You should be very well oriented about the types of services that they have and the sort of service that you may need. You are not obliged to take all the services that they offer.
b. Make sure that you carefully read the agreement. In the onset, you will need to clarify all the things that you need to clarify in as far as the contract or agreement is concerned.
c. Ensure that the removal company is reputable and trusted. If you do not want to be a victim of a bogus removal company, then you should check on the company's credibility.
With these quick tips to remember, you can perfectly eliminate some of the issues and challenges in moving out.
MORE NEWS AND TIPS