How to Load the Van When Moving Home
Published on Wednesday, 18 July 2012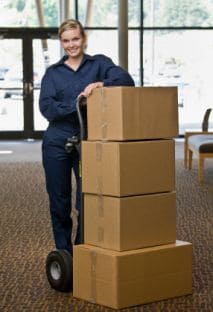 Moving is usually accompanied by a lot of stress. It is unbelievable how many things you need to consider. Regardless you have hired a professional moving company or not the burden on your shoulders is huge. That is way you have to plan in advance the whole process. You also have to try to predict any possible situations where things may go wrong and try to avoid them. after all, all your efforts should be directed to have as smooth relocation as possible with less or no damaged items.
One of the most important things you should consider is the loading of the van. Usually hiring a moving company or just somebody to load the van for you is very expensive. So we usually have to handle it ourselves. This is quite a challenge and needs to be done with proper care and attention. If you load correctly your van, you can make your moving go smoother and can prevent unwanted damages on your items. Have a look at the below tips how to correctly load a moving van so you can reduce the risk of transportation damages to minimum.
The correct loading of a moving van begins before the moving date has even been set. It begins with the packing. If you pack carefully and get everything ready for the real moving you will experience a smooth relocation. To have a plan allows you to properly estimate the space that you will need. It also allows you to intend how much time you will need for the move. This way you can define how big van you will need and at what hour it has to come. The good plan and the strict organization may reduce to minimum one really consuming time part of the moving day - the waiting around.
When the set moving day comes and your van is outside your currant apartment you need to start with the real work. First thing you should remember is that when loading the van, the biggest items go first. This way you allow far more to be transported in one trip. So load your couch, bed, dressers first and then load the boxes with clothes and other small belongings.
Use boxes! Do not just put individual items, because you will make a big mistake. On a sharp turn such items will be damaged. The boxes protect the items that are placed inside them and also help you to fit more things in the moving van. This is so because boxes stack better than individual objects. So save yourself additional troubles and expenses and try to pack all your belongings in boxes. You should also make sure you use blankets to secure your furniture and mattresses. Put rolled up rugs, bags of linens etc. on top to help fill empty spaces.
Load carefully your van to ensure yourself a stress-free moving and save yourself additional costs to buy items you have damaged or broken during the transportation. and note that even it looks like a luxury hiring a professional moving company will save you time, money and efforts. This will definitely ensure you a save move.
MORE NEWS AND TIPS