How to Create an Environment that is Stress-Free for Your Dogs When Moving Out
Published on Thursday, 10 September 2009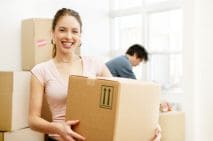 Moving out to a new house with your pets is a little more challenging. The reason being that is you need to make sure that like you, your pets are safely traveled from the old place going to the new place and that they are well-adjusted when they are in the new house. Below are some of the tips that you can use in order to create a stress-free environment for your pets:
Make sure that right after you have moved out to the new place, you walk around the house and the community to make your dogs get familiar with the new place. Walking around with them gives these pets the assurance that the place is a safe place to live with. Make sure that you have assigned one person who can take care of the pets during the travel. Like humans, dogs also get sick when they travel. Make sure that the assigned person knows the dog very well. Make sure that you feed your dogs the usual. However, do not feed your dogs when they are about to be traveled. Dogs get a little dizzy and uncomfortable when they ride the car.
Pets should considerably be given the right amount of care and attention even when in times that they are being moved out.
MORE NEWS AND TIPS