How to Cut Cost When Moving?
Published on Sunday, 22 August 2010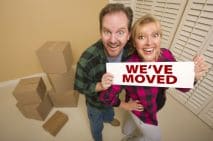 Now is the time to move to a new place to seek a new job, to experience a new environment, to live a different lifestyle, to deal with your personal stuff, and to simply make a meaningful and purposeful change in your life. But, in this time of crisis, everything has a price. So, when you move, be practical and cut costs instead of spending a fortune, because can be affordable.
An inexpensive move is possible if you happen to grab the best deal. Moving companies provide promos and discounted moving rates so movers can afford the move and enjoy the benefits of the moving services.
It wouldn't hurt even a bit if you opt for low-cost materials when you move. Be resourceful and creative by collecting used moving materials like boxes, reusable label stickers, and other packing materials: newspaper, bubble wraps, clothes, and more.
Instead of hiring movers as full time, seek the help of your friends who can give some of their time in helping you pack and move your things. Move early and don't rush things up. The best time to move is in the months of October to April. During these months there are less people who move, so take this as your chance because a scheduled move only requires you to spend less.
MORE NEWS AND TIPS