How to Impress The New Neighbours From The Start
Published on Wednesday, 22 August 2012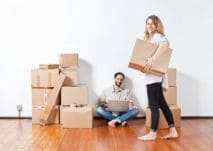 One of the biggest problems nowadays is the general lack of privacy. It can be annoying to share one's limited personal space with people with whom you have nothing in common other than the building you live in or neighbourhood you inhabit. Yes, I want to discuss neighbours. But it's possible to make the best of any situation, so read further to learn about how to make a nice first impression on the neighbours when you are moving into a new place
Start before you move in. Explain your plan and intentions to the neighbours, although you don't really have to. Go around, knock on some doors, and explain that you are the new owner/tenant of a particular house/flat, that you plan to make some renovations and when are you planning to move in, so they have some time to prepare mentally and physically for the moving day stress. The noise that accompanies remodelling and moving can be stressful for neighbours as well, so it's nice to consider them.
Having a moving plan can help you move in quickly and quietly, as far as possible under the circumstances. Organise the movers and the helpers in a way that leaves the yard and corridor empty and releases the moving van as soon as possible to avoid any additional noise. The purpose of this piece of advice is not only to spare the tender nerves of the new neighbours. You will also have a little less stress.
One of the things on your to-do-right-after-moving-in list should be to introduce yourself properly to the neighbours, and to not do it empty-handed. Ring their doorbell wearing a big smile and bearing some sweets. If you cannot bake, just visit a good bakery or shop. Introduce yourself and say something about your family. Try your best to remember some of the names of the neighbours! You never know who will turn into a friend or an enemy from first sight.
When stepping into every-day life in the new place, play by the neighbourhood rules, at least in the beginning. Follow any house rules such as when to dispose of the garbage and respect the quiet hours. Behave friendly or at least civilly with every neighbour who crosses your path, especially if they are not so nice to you. It's statistically proven that the most common arguments between neighbours are about noise. I know it's never too early to start a fight with someone particularly unpleasant, but sometimes later is better. You have enough other more productive things to occupy yourself with in the first weeks in the new residence. There surely will be someone eager to start a heated argument over small particularities later.
The hidden weapon in your armoury will be a nice housewarming party. Put some time and thought into the organisation. But don't spend too much money or energy on it; you have more reasonable ways to spend them both. Make sure every neighbour is invited - and it's better to do it personally. Not everyone will show up, but they will appreciate the gesture. Advertise the event a bit - this way you can earn better housewarming gifts from them. At the party, keep the tone casual. After all, you are supposed to be throwing the party for yourself, so give yourself the opportunity to actually enjoy it!
It's up to you to decide if you want to stay on good terms with them later, but at least give yourself a good start.
MORE NEWS AND TIPS