How to Pack Up and Move the Study
Published on Monday, 30 July 2012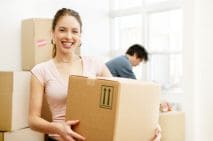 Moving your study setup isn't essentially very complicated, however, it is fairly delicate work, due to the many electronics that are usually kept in this room. While there are a few things to keep in mind when doing this, there's no reason for the removal of the study to take more than a couple of hours, leaving you free to work out the rest of your move, or, if you've finished planning and packing for the day - to enjoy a well-deserved break.
1 First thing's first - you have to pack the smallest items, This usually means stationary, pens, office supplies and the like. This is pretty straight-forward and you're not likely to need more than one box. Do not forget to save space wherever possible. Also remember to put small items in bags or boxes and tie things like pens and pencils together, to prevent anything from getting lost.
2. The books and albums are the next thing to be packed up. These should be taken off the shelves, wiped with a dry cloth and arranged in boxes. Always put the bigger ones at the bottom and the smaller ones on top. Also try to fit some in the gaps, so as to utilize the space as efficiently as possible. Next, seal the boxes securely with packing tape and mark the contents of the box and the room with a marker. This will make it easier for the movers to put everything in the right place.
3. After this, it is time to pack the computer and any other equipment. The best way to do this is to pack each item (screen, keyboard) in its original box. Alternatively, you could coil up all cables, so that they don't get tangled together and put them in a single box. This will certainly save some space. However, if you aren't particularly tech savvy, you may want to put a tag on each cable, stating its purpose. This will make it easier for you to set everything up later.
After you've packed up all of the equipment, it is time to take out the tool kit and start dismantling the shelves, desk and anything else that needs to be taken apart. Be very careful when doing this and, if you do not have a lot of experience with DIY repairs, enlist the help of a handier friend. If you've hired a removals company, this is a job for the movers, so you can skip this step.
4 The last to be packed up should be the single-piece furniture, like chairs and soft furniture. This is pretty straight-forward as these things do not usually require a box. Simply cover each piece in plastic to avoid any dirt, dust, etc. When you're done with this , it is finally time to move everything to the van. Begin with the heaviest items, putting them close to the walls and corners of the van and pile the smaller and lighter items on top.
By using these handy tips, planning the removals in advance, making a checklist and a timetable you will be able to work through the entire study in a matter of hours. In addition, your belongings will be safe and secure and you will be able to enjoy them in perfect condition in the comfort of your new home.
MORE NEWS AND TIPS