How to Plan and Organize Your Relocation
Published on Thursday, 07 January 2010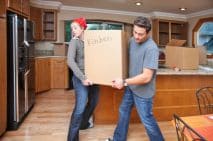 One of the major reasons why people relocate is their job. If you are single or just starting out with your career, relocation is much easier because you will have fewer things to pack. You could just probably put your belongings at the back of your car. However, relocation is different if you are married with children. It makes relocation more stressful and challenging because you have a lot of things to pack and other things to consider.
If you are planning to hire a moving company, you might as well consider hiring a moving service that operates nationwide. Moving companies usually have local branches.
Make sure to choose a good moving company. It is better to list all the moving companies that you have found and compare their prices and packages. In this way, you will be able to find the best moving company that could cater for all your needs in your relocation.
It is also better to ask for an estimated quote with their prices. You might list down all your furniture and number of boxes to move in order to have a close estimation quote for your move. Try to research their credibility as relocating or moving company. You can ask your relatives or friends if they could refer a moving or relocating company.
These are just some of the ways on you can lessen the stress when you relocate.
MORE NEWS AND TIPS