How To Save When Moving
Published on Wednesday, 28 October 2009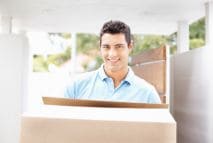 At present, everything seems to be so expensive and moving is no different. Thus, the smartest thing to do when you decide to move is to make sure you have your savings. But, see to it that you will use your money prudently so as not to waste more money for nothing.
Apart from saving, you can also perform some practical things to do to save you from paying a lot of bills. When you move, you can consider car sharing as it certainly beats travel costs. However, car sharing or sometimes truck sharing is applicable for en route locations.
If you can not find somebody with a car or truck to share with, you can resort to moving companies that offer part or return load services. This can be done by asking them to pick you up if they are passing your address as they go and attend to other services. This kind of service is advantageous in both parties because the pick-up car or truck of the company doesn't want to come home empty.
Finally, you can hire a large van from van rental companies. So, instead of having three journeys for a small van, you can transport your things in a one time journey or two.
MORE NEWS AND TIPS