How to Solve our Moving Problems
Published on Friday, 06 July 2012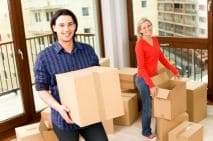 All the economic problems and the high level of unemployment have forced many people to look for jobs away from their home towns. People now have to move in a search for better job opportunities. Truth is , moving to a smaller place is one way to save money when trying to cope with the financial difficulties. When it comes to moving , there is one question many of us ask: How to handle the problems during a move out?
A very common problem many people are faced with is having to wait until they can move to the new place. Another problem is not having enough space at their new place for all their stuff. These seem quite difficult problems to solve , but here is what you can do. What people will normally do is find a place where they can temporarily store their belongings. This could be a self storage place with a little garage size unit. However, soon you find out that you cannot keep your stuff there for a long time, because this place is rented and you have to pay for it.
When this solution does not work , what can we do then? There is one better way to solve the problem with too much stuff and not enough space for them. These days people find a better way to temporary storage their belongings , by using portable storage units.
Fortunately, there are many companies which can offer you portable storage units and you can have them delivered to any place you desire. If you want to rent these units for longer time, you will be paying on a monthly basis. Surprisingly, portable units are less expensive compared to the self storage rooms and garage. Furthermore, they can contain more stuff. In case you need to move your belongings to another place, the container can be easily moved and you will not have to drive it from place to place , like the moving truck for instance.
If you are not sure yet , where you will need your belongings, you can have them stored in the container and the company will deliver it right to your door when you need it.
Another big issue with moving is the money you have to pay for a moving truck or moving services. We all know that , even though, many companies provide different services , which can help you move more quickly and easily , they are far too expensive for a lot of people. Plus there is always the concern of not being enough secure and reliable. The answer to this problem is again portable storage containers. Have in mind that , when using the containers you don't have to pay any additional costs and taxes, but you have only one fixed price. This is why, portable storage containers are known as cost effective and comfortable.
It seems that the solution to all your problems pertaining to moving is using portable storage containers. As you can see in this article , they are very easy to use. The only thing you have to do is load your belongings and the company will have the unit transported to the specific place. After that , you have to unload your stuff and call the company to take it back. You don't have to travel back and forth as it is with moving trucks, neither you have to pay additional money for services. Given how advantageous and beneficial container are , more and more people have decided to use them. This is why , more and more companies have invested in offering such services, which gives you a great chance to choose.
MORE NEWS AND TIPS