Move out with Your Family - How to Make it Pleasant for the Kids
Published on Saturday, 16 June 2012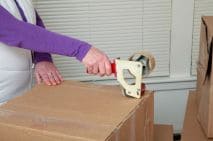 How to move out - all by yourself or to pick a company to do it for you? That is the question which answer is more frequently answered with "By myself, of course". That might look easy when you are single, but how shall it look when you have a big family, with a whole skyscraper of stuff to be moved? Well, now I will try to help you find some easy ways to turn the nightmare of moving out into a pleasant experience.
One of the most difficult things to handle with when moving are the kids. Usually they are the ones that take it too deep and the replacement of their home can affect not only their social contacts and friends, but also their spirit and even the meaning of the word "home".
That's why, it's good for you to know that you really have to be very careful when kids are involved in the moving.
To start with, you must make them feel this is right. Understanding the need of the move can help them feel as an important part of the family, and that will make them feel calmer and spiritually balanced. Try to make them part of the process and ask for their opinion when you pick the new home, when you are putting the old one on sale or when you plan the whole process of the moving.
After that, let them pack their private stuff all by them selves. That could help realizing some important details for themselves, and could even change their field of view.
Then, let them chose a room or a private place only for themselves in the new place. That will make them feel really independent and important.
But be careful - doing all this you may go too far and lose the border of what is normal for a kid. Usually you can easy make the kids feel grown, and that sometimes may transform into a bad joke. So - by allowing them to make their own decisions when moving out, try to be next to them and give them sore useful advices or ideas about each thing they pick. No matter if they chose a room in the new house, or they pack their luggage before moving, try to guide them to the best way for doing that - that may strengthen not only the kid, but your whole family as well. It may become more united.
There is a thing that also may turn out useful for your little treasures to get through the change. It is the pet. We all know how strongly attached the kids are to the pets. To turn them onto your side, you can try to ask them to find a place for the domestic cat or dog in the new house. Also try to throw some jokes, concerning the pet, like "See, even Rex ïs going to like our new place! Usually that helps.
If that does not help for some reason - try another tactics. You know your kid best! You know what do they like - sports, music, dancing etc. Well, before the move itself, try to find something interesting for them - as a dancing course, a strong football team or a cool local band to play with, if you have a little musician at home. Or - even better - let the kid itself chose something from the entertainment list the new place you go to provide.
Ah yes - and the packing/unpacking process - it is much of obligatory to make your kid be part of it! It is best all the family to be included, even the pet, if any. And don't forget - it depends all on you if the moving will be a dream, or a nightmare. Give your best to make it look as a dream.
MORE NEWS AND TIPS