Moving Checklist For A Smooth And Easy House Removal!
Published on Friday, 22 November 2013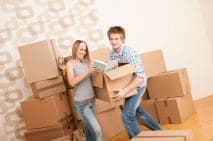 In most cases, moving house is a bit of a nightmare, and the planning and preparation are usually the hardest part. Many people will hand over to the removals company for the larger part of the work on the move day, but you are pretty much on your own prior to that point. Ensuring that you are well prepared is pretty essential if you are going to make sure that your move is going to go well, so having a few ideas about how to make this happen can be useful. You will no doubt find that you have your own ways of working, and that they will most likely be the best way to proceed, but having a look at other people's ideas about how to do things can be enough of an insight to make you question your own techniques, which can either make you more confident in them, or instead make you feel like changing a couple of things. Whichever the case if, the following moving tips should put you in good stead for a happy move.1. Plan, prepare, prevent! Planning is essential, as it will help you structure the move, and ensure that nothing is left out. This will relax you and let the whole thing take place without any terrible calamities or mistakes. You will no doubt want to ensure that you have everything in order before you start getting things sorted, as they can affect each other. Have a friend or relative run through everything with you whilst you are planning, so that you are not at risk of missing anything out.2. Planning takes time, and so does preparing. You need to get going with both as soon as you can, even if it is just to ensure that you are not at risk of anything going wrong! With a certain amount of thought about how you are going to do everything, it may be that you need time to work out how to go about certain jobs differently, to make them work better for your needs; whether it is cheaper, more efficient or just faster! 3. Have all of your materials ready. Running out of packing tape whilst packing is a sure fire way to prevent you doing any more packing that day. Going out to pick things up is a massive pain and a delay that can put you off doing stuff, so be sure that you get enough when you buy it all for the first time. You will no doubt find that you can stock up on large amounts of these things, and either sell them off afterwards if you don't need them, or hold on to it all if you do. 4. Get the smaller things, like energy bills, phone lines and the internet transferred as early as possible, but for the day of the move. This way you can forget about it all, but be sure that you do sort it beforehand, as otherwise it is not unlikely that you will end up forgetting about it anyway, and arriving at the new place with no means of energy or contact! Changing your addresses and postal redirection needs to be sorted closer to the time however, so make a note of that, or include it in your move plan.5. Relax! Taking a little time to yourself to ensure that you are not panicked or stressed about the move is essential now and again. Knowing when you are reaching the end of your tether is hard sometimes, but if you fail to notice, things could get messy!
MORE NEWS AND TIPS