Moving? Follow These Easy Guides in Packing for Relocation
Published on Monday, 15 March 2010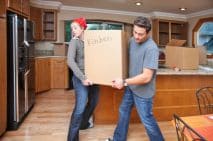 Packing for a move can be a daunting task. You need to be cautious so you will not end up breaking all your fragile belongings. You need to be organized so you will not misplace your things. It will please you to know that packing for a move can always be managed. Follow these easy steps to guide you through a stress-free packing and smooth moving.
Set up a stage area. Set up a table at the center of a room where you can do the packing. Place the boxes and materials near the table for easy access. Select a certain point in the room and begin packing in a clockwise direction.
When packing fragile items, make sure you have enough padding to provide protection. Padding materials include newspapers, bubble wraps and linens. Line a layer of bubble wrap or several sheets of newspaper at the bottom of the box. Make sure you completely wrap the item with cushion. If you will pack dishes, make a layer of bubble wrap in between each plate. You can stack a maximum of five dishes each box.
For safety, place heavier items at the bottom of the box. Try to place each item closely to keep them from shifting during the move. However, do not crowd the box with items. This may cause unwanted scratches and damages to your belongings.
Have a planned and organized packing so you can keep your important belongings safe and sound during and after the move. Dread packing no more. With these useful packing guides, you can surely achieve a smooth and relaxing move.
MORE NEWS AND TIPS