Moving House: DIY or Man and Van?
Published on Monday, 13 January 2014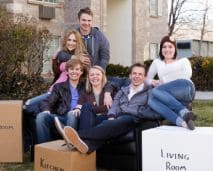 Moving house – it can be a momentous, daunting occasion. There are inevitably many decisions to be made; from the location of your new property to which order your items will be packed in. In whichever case it's virtually guaranteed to be a costly process, so it's the natural thing that you want to keep those costs down. Professional removal companies can be prohibitively expensive, so is it sensible to make use of a local Man and Van service instead? Or is it better still to just get on with it yourself and save those pennies? Read on to help you make the best decision for your moving day. DIY. When you're working under your own steam and you're not relying on anyone else, you are dramatically cutting the chances of anything going disastrously wrong. You will know which vase is the most fragile and only needs a slight knock to shatter; you will remember which table has the wobbly leg so has to be carried in the right way. You are the expert when it comes to knowing everything about your own property and therefore you are in the best position to safeguard it. Assuming that you have a few willing friends or family members to help out, being in charge of your own little crew will give you the confidence and peace of mind to enable you to relax on what will be a challenging day. You won't have to worry about strangers mishandling your goods or any dishonesty. The only people in your property and touching your possessions will be those you can trust and choose. Then there's the money issue. By undertaking the removal work yourself you will save potentially hundreds of pounds. And it's not uncommon for removal services to quote a price without VAT or add hidden extras to your final bill. All of which can come as a nasty shock at the end of a stressful day. If you don't pay removal costs you can be sure that every penny you are spending on your move is absolutely necessary. And it may even leave you a bit of spare cash for pizza and drinks after the work is done! However, be careful not to underestimate what a tough job it can be to move an entire houseful of belongings. For small moves such as between student houses or studio flats it can seem a tempting idea to cut costs by trying to do it all yourself but it's important to bear the risks in mind. Moving furniture, even small amounts, is a physically challenging job. You will have to have a certain level of fitness to manage it adequately. Putting your body under unfamiliar strain can cause a lot of damage to muscles and tissue. Having someone who is experienced at removals will mean that you shouldn't have to lift a finger – other than pressing the switch to boil the kettle. Once you've packed, you're done! Plus there's no risk of you damaging your property through moving large items incorrectly. A man with his van will be able to answer any general questions you might have about your move, or advise you on the area you're moving to. Experience counts for a lot; having someone on hand who has done the job many times before removes the stress of having to be responsible for it all yourself. They will know how to pack a van much more quickly and efficiently than a novice. You may not save money – but what you don't save there you will certainly make up for in terms of time, peace of mind and expertise.
MORE NEWS AND TIPS