Moving Large Items
Published on Monday, 12 April 2010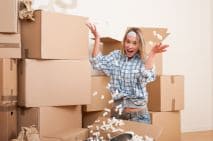 Part of any move is the heavy lifting, which can be manageable, except when it comes to large items such as beds, sofas and couches, and the like.
One of the keys to accomplishing this is to see if your large items or furniture can be dismantled and / or disassembled. This way, you can cart out the pieces one by one, and make everything easier and not have to carry so large a weight at a single time.
Of course, when it comes to heavy items, always have help - you cannot expect to be able to lift everything just by yourself. Either you can have friends over to help you or hire a good moving company to assist you with your move. Especially when enlisting the help and services of a moving company, you'll be able to spare yourself the stress of heavy lifting.
It's also important when moving large items that you remove all possible obstacles from where you're going to pass. The larger the items, the more unwieldy they are and any accidents can be quite severe. So if you're concerned about safety as well as better manoeuvrability, then you should have removed all hindrances from the path.
MORE NEWS AND TIPS