Moving Out - Make It Happen
Published on Saturday, 21 July 2012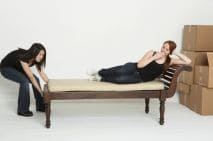 Finally! I thought you will never make it, but there you are - it is time for you to move out of your parent's home and rent your very first own apartment! So you have thought it over. You have taken some important things into account. Now is time to make it happen.
Read the following advises about some details of the actual process of finding a place and making it your place.
#1 Rental contract
You will have to sigh one in order to rent a residence. First read it thoroughly through. It will be a boring read, but you can find some important and/or useful information in it, such as how much is your rent going to be, or if parking, garage, internet and cable TV are included or excluded from the rent.
#2 House rules
Annexed to the rental contract you will receive an exemplar of the house rules. Those are the rules everyone in the building has to obey. As for you, pay special attention to the quiet hours, because this is what you are usually expected to fight about with the neighbors. Noise is number one reason for fights with neighbors.
#3 Rent
The rent is always agreed upfront. Make sure to also agree the way and the due date to pay the rent. And don't allow the rent to expire! It does not only speak volumes of trash about you, but it also puts you in danger of losing your place (and the newly earned respect of your parents, to go with it!).
#4 Change of address
Be aware, that your address has to be changed in most of your documents, especially in your personal data file at work. Don't forget to alter the address of your subscriptions for magazines, newspapers or other delivers, otherwise this items will arrive at your parent's, so they will have yet another good reason to bother you.
#5 Holiday
When you go on holiday, especially for a time longer than a week, make sure your landlord knows, in case of emergency at your place while you are away. Also, before you leave, arrange the rent to be paid to the due date, so you still have a place to live when coming back. Ask someone, a friend or a neighbor, to collect the post, water the plants and feed the goldfish.
#6 Turning over
Before you move in, a document will be prepared, stating the state of the flat when it is turned over to you by the landlord or the previous tenant. In the document will be given details about the condition of the wallpapers, the walls, the floors, the ceiling, kitchen broad boards, furniture, windows woodwork and glasses, and pretty much everything in the residence, including every scratch, hole, stain and other damages. The same procedure will be performed when you move out and turn over the place to the new tenant or back to the landlord. Follow my thought? So if eventually new damages are found, you have to pay extra, or some money from you deposit will be held back. Got the idea of the deposit now?
If you got so far, congrats, you almost made it! You are about to actually move in into independence!
MORE NEWS AND TIPS