Moving Out with Kids: How is It Best Done?
Published on Sunday, 05 December 2010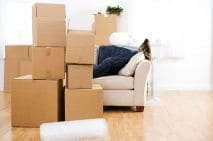 In itself, moving out is a one big stress. In addition, this becomes even more stressing when you have children who do not cooperate with you. Below are some useful tips that you can follow in order to make the whole moving out idea easier to carry with your children:
a. Like adults, children need to know, too. Making your children properly informed about the whole idea of moving out will appease them. You need to understand that they, too, get stressed with the idea of moving out because your home is the comfort zone that they only have. You can have this resolved by explaining to them the reasons of moving out - at least months before the actual day of moving out.
b. Like adults, give your children the chance to absorb things. It is pretty sure that it took you more time to deliberate and assess things before you came up with a finalized decision. Do the same with your children. Do not rush them to accept things. Give them some time to absorb and accept the reality of moving out.
By following these simple yet effective tips, you can have a smooth flowing moving out day with your children.
MORE NEWS AND TIPS