Moving Tips That Won't Disappoint
Published on Wednesday, 07 October 2009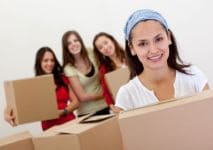 If you get yourself equip with the following moving tips, you will never fail to achieve your goals which is to successfully move into your new place.
Research is an indispensable part of moving especially if you want to hire the services of a specific moving company. After researching, make sure that you also do your own packing apart from the packing that movers will do like packing your furniture and other huge appliances. To make everything organize, you need to have your own checklist that will tell you which is which when you become busy packing your things.
Always carry a backpack with your when you move because backpack serves as an emergency kit that will contain all the immediate needs you will need. The usual contents of backpacks are hygiene stuff and other first aid materials.
Though you may raise your brow with this next tip, you will agree with it in the end. This tip is about getting a small TV which you can immediately operate if you want to relax and take a rest from tiring moving process.
Finally, don't attempt to move everything in one day. Take everything easy so that everything will be transferred without getting hasty. There is always the next day.
MORE NEWS AND TIPS