Moving to a New Apartment with Ease
Published on Thursday, 25 March 2010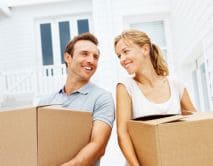 Moving is always synonymous to tons of work, not to mention yet the headache and stress that may come along the way. However, if you will only be very careful about each task, the whole process can be a light and exciting thing to do.
The first thing that you must keep in mind is that before the actual move, check out all of your belongings. Get rid of all the items that you do not need or use anymore. This will save you a lot of your time, money, and effort in the whole process of moving to a new apartment.
Moreover, when packing things up, use boxes that can be easily carried by a single person. Avoid buying boxes if you can get one from your local grocery store for free. When you are dealing with breakable items, wrap them first with towels, old newspapers, and even clothing. Then, after closing each box, label them with what's inside it so that you have an idea on how to handle them. You can also go for color coding to determine which room a particular box must go in the new apartment.
Once everything is set, you can ask your friends to help you get started with the move. Or, if your budget permits it, you can ask the services of a reputable moving company to help you get settled in your new apartment with ease.
MORE NEWS AND TIPS