No Worries on Relocation with Moving Insurance
Published on Wednesday, 16 September 2009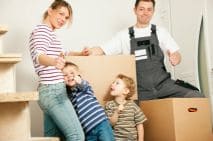 It's very normal that we worry for our belongings when we move from one place to another. We'll never secure our sentimental and financially valuable belongings because these things are simply not anymore of our control when we move. Instead, we give our full trust to a moving company that all our things be moved sound and safe.
If you are in the same boat, why don't you choose, not just the most reputable, but the company offering insurance? At least with insurances, you can protect the financial value of your things. This way, your belongings will be properly compensated in case of damages.
Anyway, there are a lot of moving companies offering insurance for you to feel secured about your belongings. You just need to choose the insurance coverage you want for your things.
The extent of protection that your things can get will depend largely on the insurance coverage. Though it can be more expensive, but having wider coverage will give extra protection for your things.
You can always choose to save up some money by choosing limited insurance. Just select the coverage that will most likely happen or instances that are almost inevitable.
Lastly, be careful when choosing insurance especially that you will depend on this for your peace of mind while moving. Compare moving companies' costs and services. Though the cost does not really matter than the service, it is still a wise move to choose an insurance that will be cost efficient while at the same time promises quality service.
MORE NEWS AND TIPS