Overcoming Loneliness After A Move
Published on Thursday, 24 December 2009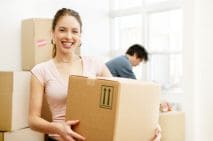 Everyone who's ever moved will tell you that moving is always difficult - especially when it comes to logistics. Many might think that the difficulties end once you've moved in, but once you've settled in, you are faced with a new challenge: loneliness.
It is normal for new members of every community or neighborhood to feel lonely, awkward, and even a bit afraid, as it takes a while for one to get used to new surroundings.
When you are faced with this kind of situation, you need to shake yourself out of it and try to be a natural part of your new environment as much as possible.
One of the ways you can accomplish this is to be friendly to your neighbors and the people around you. You can always approach people and introduce yourself like, "Hi, I'm ... and I've just moved to... Nice to meet you!" If you prefer a slower approach to things, you can simply offer a smile to people you come across. This way, you do not come off as stand-off-ish or snobbish, and allow people to feel more comfortable when you are around.
Being friendly is one of the ways you can make new friends and become part of the new environment you are in. A smile can be all it takes for you to be accepted as one of the new residents in the community you've moved into.
MORE NEWS AND TIPS