Planning and Organizing Your Move
Published on Thursday, 17 September 2009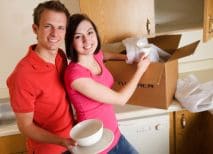 Moving is not at all times stressful. If you will know how to plan and organize everything that involves to your move, this activity can be more of a smooth transition to you rather than a strain. You can follow the suggested ways to do as you complete everything that needs to be done for your move.
Avoid becoming lax. Two months before the date of your move, you could already conduct a research for the services you will need. You could already research for the schools and job opportunities near to your new place. Then, six weeks before you move, you could start informing your utility providers about your plan to relocate, and eventually you could also inform your friends and your neighborhoods about your new address a month before you leave.
Also, it is ideal to start sorting out your things a month before you move. Look for the things that are no longer necessary. You could either sell or donate those things you will not need anymore.
With regards to packing, you could do this two weeks before the date of your move. To make your packing more organized, you could have a notebook where you could record everything. Don't forget to confirm your moving agreements with your moving company to prevent any possible delay. This way, you could already relax yourself instead of being pressured while waiting for the date of your move.
MORE NEWS AND TIPS