Practical Tips When Moving
Published on Saturday, 20 February 2010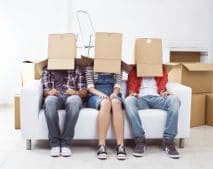 You need to plan well in order to have a successful move. Here are some practical tips that you can use to have a smooth move:
If you are looking for a good moving company, referrals from your family and friends are your best options to hire to help you with your move. These moving companies have provided excellent service to the people you trust. There is a big possibility that they will be consistent in providing such service.
You can also search online when looking for a good moving company. However, you need to extend your research and include moving company reviews from different people.
When you start packing your things, make sure to start with the heavy and big furniture. If you are packing books and other heavy things, try to put them in small boxes instead of placing them in one box.
Packing should be done properly. Use bubble warp for fillers inside your box that has fragile items inside.
Use the original boxes of your electronic devices and other electronic appliances when packing.
If you have pets, you need professional movers to transit your pet to your new home. They know how to transit your pet making the transit less stressful for them.
Always remember to plan your move carefully. Organizing it 3-months ahead from your move day will be less stressful for you.
MORE NEWS AND TIPS