Quick Tips to Identify Credible and Dependable Moving Companies
Published on Tuesday, 03 November 2009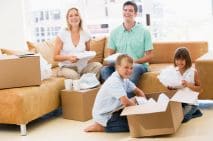 When you are hiring the services of other people or companies, it is within your best interest to get the best services and the best people - this is just logical because you are paying. Unfortunately, there are still some people who get victimized by bogus moving companies which pretend to be credible and dependable. Below are some of the ways to check whether a moving company is reliable and perfectly fit to do the job:
More often, credible moving companies do not brag about what they can offer but instead they rely on personal testimonials and referrals. When you talk to the owner of the moving company and he begins to talk a lot, then you need to be cautious about that company. Check whether the company gets too worried about his payment. Most dependable companies are after how they can assure you of getting the best services and not worrying too much about their pay. Professional and reliable moving companies usually give the estimates upfront. If a moving company sends out someone to do the quoting, then you need to be cautious about this company.
Moving out is stressing in itself. It becomes more stressing when you get hold of the wrong moving company. So, be cautious and learn how to spot the difference.
MORE NEWS AND TIPS