Reduce Moving Stress and Start it from the Packing
Published on Friday, 18 September 2009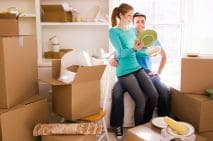 Stress is really a part of the moving process. No one ever felt no stress when they move-unless those who have prepared for the moving carefully and surely. And most of these people started to reduce their moving stress from the packing.
Why packing, you may ask. This is because packing is the most time-consuming, difficult, and tricky part of the moving process. Loading, unloading, and unpacking are all easier. The mere imagining of all these processes will already make you realize that packing is truly the most stressful part.
Better follow what these people have done to reduce stress starting from the packing. Here are some things you can do for that:
1. Create a list of the things you will bring with you when you move. You don't want to leave any important thing so make sure that you have a note to remind you of this. There may be a possibility to not include something important in your list. Don't worry because you'll just remember that when you go through all your things when you are already packing.
2. Prepare as many packing materials as you can. You can't tell how many boxes you will use so just collect every packing material you can. Don't forget to include boxes, used papers, strings, scissors, marking pens, bubble wraps, and plastics.
3. Ask packing advice from experts. Only experienced people can tell you what packing technique will work or not. So, asking them is very beneficial-even reading their articles can already be helpful.
If you are not sure you can do the packing right, then consider hiring professionals to do that. You may pay for extra services but at least you are sure that your things were packed correctly.
MORE NEWS AND TIPS