Removals Staff - Unskilled Laborers Or Trade Masters?
Published on Friday, 07 February 2014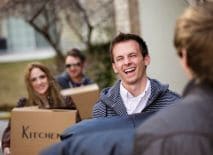 When you are moving house, you will likely think very little of the process of the removal itself, in the light of the massive number different things that need to be sorted out for the move to go ahead in the first place. If you can however, it is worth spending some time looking in to the removals company that you are considering using, as the people who work within that company can be extremely influential on how well your move goes. In the event that you find that you do not really like the way in which the removals company works and employs its staff, then it may well be worth looking elsewhere, or even paying a little more to get a company that you believe respects its employees.What could all of this mean? Removals companies are classed as companies staffed by 'unskilled' laborers, like those who work in warehouses or stacking shelves. In the way in which there are not government approved training programs or qualifications for the skill of moving someone out of a house that is correct, but in every other way it is a gross misrepresentation for a large portion of removals staff across Britain. Can you imagine if you were asked to go to someone's house, and disconnect their washing machine safely, remove curtains, blinds, light fittings and lampshades, amongst many other things, and then lift heavy boxes and awkward items of furniture up and down stairs all day, whilst retaining a pleasant composure for the sake of the customer, and not letting anything get too dirty... Only to do the same thing in reverse a couple of hours later? It's a massive job, and whilst you could say that hard work does not mean skill, the nature of the varied tasks, from plumbing, to electrical work as well as good customer service suggests that in fact it certainly is.So, you can see why you would want someone who is used to the job and could be described as a skilled worker, rather than someone who has just picked up the job because their unskilled status does not let them work in many other jobs. Many removals companies keep a constant staff, whilst others will only hire workers on a cash in hand, day to day basis, which means that they are unlikely to develop a relationship with them, and therefore no trust or bond is there when it comes to how well they will work. If a staff member is trained up by a company, and gets on well with the rest of the team, then they will feel a loyalty to that team, and therefore want to show off the company in the best light that they can. For this reason, they wil usually be much more hardworking, as well as nice to have around than those who are simply motivated by the money at the end of the day. Finding these things out before you are too far down the line is essential, as you don't want to find out about them when it is too late. A good removals company will often be part of a trade association like the British association of removers or the Guild of removers and storers, simply so that they can show that they work by a particular set of standards. These standards are the kinds that will dictate how a customer is treated, and a staff member fairly paid, so it is well worth looking out for such companies.
MORE NEWS AND TIPS