Simple Ways to Move Out and Move In
Published on Monday, 04 April 2011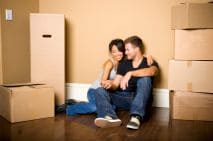 Once you find a new home to move in, the next thing you have to do is to prepare for the process of moving. You have to carefully plan for this house move. This is the most important thing to consider when moving out from an old house to a new property.
What you will actually do first is to ask the cooperation of your family members. Tell them to do some things such as packing all of their personal things. You can assign extra stuffs for them to do as well. This is to ensure that you do not leave anything important behind. It's also important to instruct them what to keep, what to throw and what to sell or give away.
Make every step of the moving process easier with the help of removal company. Movers are going to carry and transfer all of your things from the smallest to the largest and lightest to the heaviest. In hiring a moving company, make sure that you select a good one that can give you satisfying services and assurance that your things would be moved safely and securely.
A moving day can be somewhat hard to do but you can avoid any possible stress if you prepare for it. Asking help from your family members and professional movers will make things more convenient and easier.
MORE NEWS AND TIPS