Some Moving Basics
Published on Wednesday, 04 November 2009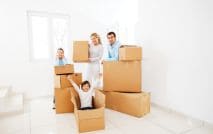 Moving is indeed a stressful and arduous process, but armed with a few basic pointers, moving can become less stressful therefore make things more efficient and pleasant, even.
The number one thing that you should do when you are going to move is to plan in advance. Plot out a timetable that you'll use to spread out the tasks you'll be needing to do like looking for moving companies, sorting through your things, packing, and so on. Stick to the plan and be disciplined.
Another is to make sure that you pack properly. Breakable items need to be packed with extra care - use items like bubble wrap and packing peanuts and crumpled newspapers to give them a cushion for the jolts and shocks they'll get during transit. They should also have the proper labels that indicate their fragility.
When looking for movers, consider the following: availability of insurance, experience, feedback, transparency of rates, and fees. Try to have a short list of moving companies and then weed out the least desirable ones as they go along.
Make an inventory of items you'll be packing so that you can keep track of them well, especially when you start unpacking. You also need to pack a small box with some essentials to use while you're still unpacking the rest of your stuff.
MORE NEWS AND TIPS