The Best Tips for Moving
Published on Sunday, 20 May 2012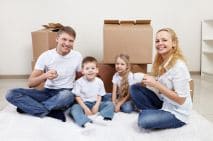 Moving entails a lot of preparation and resources. There are many details that you have to take care of and sometimes, the fatigue and the stress is just too much to handle. To avoid confusion and to make your move as smooth as you can, you have to carry out a detailed plan. The earlier you prepare for your move, the more free-flowing it will be. Here are some of the guidelines that can help you in preparing your journey towards a new home. These tips are also environment-friendly which helps you reduce your carbon footprint as you go along the moving process.
- Let go of the items that you do not need anymore.
While you are packing up your things, get rid of those that you do not want anymore. You can give away these things to the charity or conduct a yard sale. A yard sale can be a good idea for it does not only help you dispose of the things that you do not need, it also helps in covering for the expenses incurred for the move. Things that you haven't used in six months are the likely candidates that will make it until the yard sale. Do not be too grouchy about letting these things go, chances are, they will just add up to the crap when you have moved to your new home.
Use reusable packing boxes.
The moving boxes that you should use are those that are made up of reusable material. You can choose to use plastic moving boxes for they can be used over and over again. Plastic boxes are also more durable and they eliminate the use of masking tapes. Not only that, plastic boxes are easier to stack up together and they can fit in any amount of space.
Use eco-friendly cleaning products.
- It is advisable to clean your house before you finally move out. While doing this, it is best to utilize ecofriendly products that do not contain harmful substances that can pollute the air, water, or land. For a more efficient and cheaper cleaning solution, you can choose to use a mixture of baking soda and vinegar. This natural and home-made cleaning material does not only help you cut down on your cleaning costs, it also helps in maintaining an environment-friendly atmosphere.
These are just some of the tips that you can use as effective guidelines during your moving process. Following these tips will not only help you organize your move, it will also enable you to reduce the impact of your move to the environment. It is important to follow these tips for everything that we use and dispose eventually comes back to us.
Moving is never an easy task. However, guided by the principles of organization and industry, you can easily tackle the moving process with grace and ease. Remember that your move is just a positive step towards a better chapter of your life.
MORE NEWS AND TIPS