The Necessary Steps When Buying a New Home
Published on Tuesday, 03 July 2012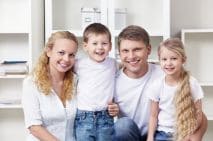 When thinking about buying a new home, people have mixed feelings; it is exciting and scary. No matter how you feel about it, there always comes the question you should ask yourself: Am I ready to buy a new home?
In this article, I have presented couple of basic tips, which can help you answer this question.
In order to make the right decision many people need to look at the advantages and disadvantages. So , what are the advantages of owning your own place? The most obvious advantage and benefit is that it is yours. You can do whatever you want to; you can turn it into your fantasy home, with pink walls and flowers everywhere and you don't have to ask for permission to do it. The second advantages is that, you save money for rent. You can estimate how much you are going to save for rent just for one year. Everyone knows that, buying a property is the best investment you can make.
Are there some disadvantages? Well there are; when something gets broken you cannot call your landlord to fix it, but you have to do it. Another drawback could be caused by the rapidly fluctuating market. In a couple of years your property may lose value and this means that you will lose money.
No matter, however, how many disadvantages one can find, people still dream of having their own place to call home.
There are three basic steps you should consider when buying a new home.
First, determine how much you can afford. A good and effective way to estimate this, you can use the debt- income ration, which simply will show you how much income will you have left when you have paid all your debts. When you are estimating this, make sure to include your savings account in your calculations.
Second, find the right mortgage. Even if your debt - income ratio shows a good number and you have a lot of savings , you cannot possibly buy a new home without a mortgage. Make sure , to choose the right mortgage, because a bad decision can significantly affect your finances. A good mortgage will be the one with fixed interest rates. This means that the interest will not change so your payments will remain the same. Even if, the interest rate goes up, you will still be paying lower interest rates. Don't risk taking an adjustable rate loan , because it will not provide you with the stability that fixed one can.
Third, consider the down payment . In addition to choosing the right mortgage, you should estimate the down payment. As most of you probably know, the down payment is twenty percent or more of the price of the home. When you know that , make sure that you will be able to afford this payment.
No matter how fascinating and thrilling it sounds, buying your own place requires lots of considerations. It is not like buying new clothes or new furniture, you have to be very careful about your choice, otherwise you may get into big troubles. In this article, I have stressed more on the importance of your finances when buying a new home. This is the most crucial issues to consider before making this important step. The others are just paper work and shopping for the right place. When you consider all the tips shown above and the answer to the posted question is yes, then you can move on with the other steps.
MORE NEWS AND TIPS