The Three Necessary Steps to Take Before Moving
Published on Monday, 21 September 2009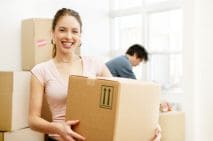 Moving can always be both fun and stressful. But beyond your feeling, some matters need your attention also before the moving date finally arrives.
Getting prepared for the moving is not that hard especially that you only need to take these three simple steps:
Notify everyone and everything that you are moving. Thanks to the speed and dependability brought by the Internet. You have now informed your friends that you will move soon. You even invited your neighbors for a farewell party just before you finally move. But have you thought about your bills, magazine subscriptions, and newsletters? You better inform you post office also about the forwarding address. You don't want to pay double for bills or for a magazine that never reached your hand.Clean the house you're leaving and moving to. Not just for sanitary purpose but for being a person with manners that you will do the cleaning of the house you're leaving and the house you will be moving to. Doing this does not only help you have a simpler moving but a cleaner reputation also.Plan your moving carefully and seek advice. You will surely be tired to unpack things so you may not be able to do this anymore. Good thing, you know that you need to keep all the basic things you need in one box. The moment you arrive in the new house, you just need to open that one box and everyone can now rest comfortably to prepare for the next day's unpacking and house arrangement.
Of course, you don't want to experience so much trouble about anything just because you were unprepared. You can always control the success or failure of this exciting yet stressful happening through preparation.
MORE NEWS AND TIPS