Things to Do When Children Take Part in Moving
Published on Saturday, 26 December 2009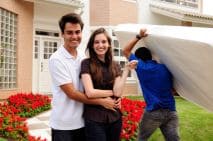 Parents and children can work together in a family affair like moving. Children would love to take part in moving activities if they are properly given instructions and if they are rewarded. Letting them do their own contributions will make them feel important part of the family. And it is just nice to see an entire family packing stuff together, cleaning the house happily while chatting, and organizing things systematically.
With such participation, children will learn to be responsible with their actions and completing the packing and the entire move is easy.
Children should also get involved in choosing your new home. Ask their opinion about the place you have found and if you finally moved, make them feel at home so they can adjust without exerting too much effort. In your part as parents, you need to choose the place that has a good environment so your children will not be influenced by any harmful and dangerous events.
And when you are packing, get your kids engaged in doing small roles like collecting their toys. This little action can be a big duty for them which they need to complete properly. Afterwards, whether they do a good or bad job, acknowledge their effort.
MORE NEWS AND TIPS