Things to Take Care of When Hiring Truck Services
Published on Thursday, 15 October 2009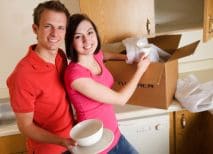 Hiring a removals company to help you with the move is the most convenient way to do it. However, the problem would be when you have a small budget for the move. You would have to do most of the things yourself and resort to hiring trucking services instead.
This means you have to do the packing. But you will be paying for the space you will be using during the transportation. To save more money, you need to bring only the things you need. Disposing some of your things would be a good idea. To even raise some money, you can hold a garage sale.
But since you will be turning over your belongings to the trucking service, make sure that you are hiring a reputable company. You have to check out if you are hiring a legitimate company. If your family and friends know one good company you can use it too. Of course, you may also want to compare quotes first.
When using a trucking service, you have to follow their schedule since they are also servicing other clients too. It would be better if you have everything out before the truck arrives. To make sure that you can accomplish everything timely and you will have an easier time loading and unloading you should ask help from friends too.
MORE NEWS AND TIPS