Tips for Packing Your Kitchen for a Move
Published on Thursday, 07 June 2012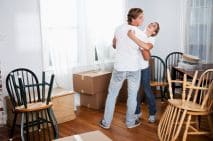 It seems like one of the most complicated rooms to pack is the kitchen and all the dishes and silverware that it includes, not to mention all the cleaners and clothes that are there as well. The kitchen can seem like the most overwhelming of the packing process, when moving but there are some things you can do to make the packing of the kitchen go that much more smoothly and when it is finally time to pack the treacherous kitchen you will be prepared. Preparation is the key to packing the kitchen smoothly. The tips here will help you prepare.
1) If you have any boxes saved from when you purchased your pots and pans then use them to move these items, finding the right sized box for pots and pans since they are all different shapes and sizes can be frustrating. If you do not have the original boxes available use lots of packing paper as you pack them into the moving boxes, use the paper to fill in the empty spaces in the boxes as there is likely going to be many spaces that will need to be filled because of the awkward shapes.
2) Have some plastic sandwich bags on hand for any soaps and bar soaps or just toss them out. Placing these kinds of items in plastic baggies will keep them from spilling or leaking onto other items in boxes. If you can put all the items that need to be put into plastic baggies in their only little box. Remember to never pack any flammable, pressurized chemical cleaners they can pose a health hazard during moving.
3) When it comes to packing glass dishes this is where it can get complicated but there are a couple of ways you can pack these items safely and prevent damage to them during transport. One way is to purchase specialty boxes known as "dish packs", which have cells that will keep the items divided and not allow them to clang against each other while in transit. Dish packs are really the best way to go because there is really no extra wrapping involved you just slide the dishes into the cells. The other way is to pack them traditionally and this takes a little more work on your end because you will need to wrap each of the dishes with paper or bubble wrap and put them into the boxes. If you do this remember to fill in any empty spaces in the boxes to prevent any movement inside the boxes during transport.
4) Remember to clearly mark any boxes that contain fragile contents, this will make them easier to load and identify them as something that needs special attention to prevent damage.
5) If you use a removal company marking the boxes as fragile is very important because they will load the boxes accordingly.
6) Have all your boxes and packing materials ready before you start packing the kitchen and you will be prepared for any problems you encounter; tape, bubble wrap, packing paper and any specialty boxes are some of the materials you may need.
MORE NEWS AND TIPS