Tips on Hiring a Removals Company
Published on Tuesday, 23 March 2010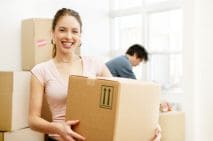 If you want a smoother and a less stressful move, hiring a removals company is a great idea. But since not all removals companies are the same, you have to be careful in choosing the removals company to hire. For one, you have to check whether the company is legit and not just out to take your money and your belongings. Then you have to check if the company indeed is an expert and a professional in removals. And lastly, you may want to check out the rates so you will be able to get the best deals.
The best sources of recommendations are from family and friends. Since you know them you would be able to trust their word more. If they have hired removals companies and recommend one to you, you know they really had a good experience with the company. But then you can also search the Internet for the popular removals company. Of course, you should list down at least 3 companies and look into them more closely. For instance, a company with longer experience is preferred. You would not want to hire a company with so many complaints either. That is why you should check the companies at the BBB website.
Before you decide which company to hire you should contact the companies to talk to them and ask questions. This will give you an idea which company gives better good customer service. This will clarify what services are included with their rates. So, you will be able to decide which one gives the best deal.
MORE NEWS AND TIPS