Tips on Storage Space Usage
Published on Wednesday, 23 September 2009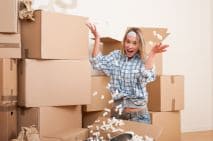 When you are moving to a smaller house or to a smaller office, you cannot bring all of your things because you will not have enough space. However, if you still need the things that do not fit in your new place, you cannot discard them. One good solution to your dilemma is to rent a storage space.
The Advantages of Renting Storage Space
Again, this gives you additional space for your things. You would not have to rent a bigger office so you would not have to spend so much more money for office rental and maintenance. If you are moving houses, you would not have to let go of the things that are valuable to you.
The good thing about storage facilities is they usually have security systems. This is, of course, especially so since your things are in their hands while it is there. So, this means you have less to worry about theft and damage.
How to Pack Your Things
In order to protect your things better, you should use boxes of the same sizes. This will prevent boxes from falling due tilting. If you have metal in your boxes, make sure that you clean them first and you wipe with a small amount of oil to prevent rusting.
Boxes should also be packed to the top of the box. This will prevent your things from shifting. And so this will prevent them from being damaged.
Of course, arranging the storage unit in such a way that allows access to your things is important. To protect valuable items, you should store them at the back so thieves would not be able to get to them right away.
All in all, using storage units would only be able to favorable and beneficial to you or to your office.
MORE NEWS AND TIPS