Two Ways to Get Free Moving Storage
Published on Saturday, 17 October 2009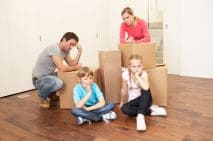 Aside from being stressing, moving can be so expensive also. Whether you hire a moving company or not, you will still spend something for the moving. That is why people make every possible way to save on the moving. Well, the good news is, you really can save a lot for the moving. One of the ways you can do is getting a free moving storage.
Here are the two ways you can do to get a free moving storage:
1. Ask a family or friend if they can let you borrow a free storage area. You may know someone who has a spare room or a wide basement where you can put all your things until the day of your moving. There's nothing wrong and nothing will be gone if you ask them for a free storage. Anyway, it will be for a short period of time only.
2. Hire a one-way truck rental. Companies offering this service usually offer free storage also. How? You will usually have the truck for a period of time, maybe some days or a whole week. While the truck is with you, you can stack that up with your things. In short, it can be your instant short-time storage area.
It will surely feel so great that at least you saved a lot of money from renting a storage facility. No wonder why they say that the best things in life are free. Well, the free moving storage is also the best of all.
MORE NEWS AND TIPS